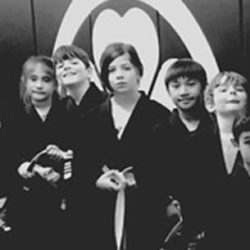 A Birthday Party with a Twist!
Are you planning a birthday party for your kid? Thinking of doing something different this time? If so, then Sakura BJJ is the perfect place for you to throw your kid an awesome Martial Arts Birthday Party!
Every year kids eagerly await their birthdays for all the gifts and fun games with their friends and family. This is a special day for them, and we know how much you want to make their next birthday a bit different from the last one, so it doesn't get repetitive. At Sakura BJJ, we know how to throw karate birthday parties just as well as we can throw with our BJJ skills!
"Every year kids eagerly await their birthdays"
Just because we look disciplined and mild-mannered doesn't mean we can't throw a fun party for kids. In fact, with our martial arts knowledge, we know how to make your kid's birthday so much more fun and memorable than any of the previous ones!
We know how much you care for your children and we understand that love as we too have families. This is why we go all out and do our very best to set up the decorations and come up with fun games for everyone to enjoy. With us, rest assured that your kids and guests will have a great time!
Why not give us a call or visit us at our dojo and we will let you know how we can make your kid's upcoming birthday truly awesome!