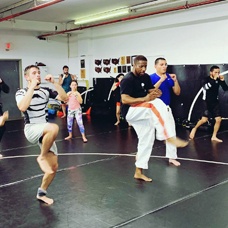 If you're looking to get in great shape while learning how to defend yourself, look no further! Sakura BJJ now offers kickboxing classes. Both men and women can get an incredible full body workout, reduce stress and have fun taking kickboxing lessons.
EXPERIENCE FITNESS ONLY KICKBOXING CAN DELIVER
Whether you're a complete beginner or an experienced martial artist, kickboxing classes at Sakura BJJ in Rockaway help you to lose weight, improve your flexibility and increase your strength. Kickboxing is a full body workout that gives such great fitness results; you'll wish you started sooner.
Kickboxing classes provide a better workout than your typical gym. Whether you realize it or not, the act of balancing your body while throwing punches and kicks forces you to utilize every major muscle group in your body! This helps to better develop your arms, legs and especially your core muscles including your abs! After only a few classes, most students begin to notice a significant difference in their appearance and the way they feel!
Kickboxing also helps to improve your cardiovascular fitness. Improving your cardio fitness means you'll have more energy throughout the day. You'll also help to reduce your risk of heart attack, high cholesterol, high blood pressure, diabetes, and more!
IMPROVED SELF-DEFENSE AND CONFIDENCE
When you train in kickboxing you're not only getting in shape, you're also learning real world self-defense techniques. You'll learn multiple blocks to effectively prevent someone from attacking you. And if need be, you'll also know how to use your new strength to be offensive too!
By improving your ability to defend yourself and your family, your confidence in every aspect of your life will improve. This includes work, at home and in public. Kickboxing helps both men and women can become more confident in any situation they may find themselves in.
REDUCE STRESS
Studies have shown that 77% of people experience physical symptoms related to their stress and 33% of people feel they are living with extreme stress. Exercise has been proven to reduce stress for both men and women, both physically and psychologically. If you're looking for a fun way to reduce the effects of stress and depression, then train in kickboxing with us!
STAYING MOTIVATED
The hardest part of getting in shape is typically keeping your motivation up. This is why kickboxing is such a great option! When you take our Rockaway New Jersey kickboxing classes, you will see results quicker than you would with a home gym, a regular gym and even a personal trainer. It's these incredible results that will keep you motivated.
Another great motivator is the friends you'll make. You'll meet people in your area who have the same goals as you, and they'll be there to help you achieve and surpass your self-defense and fitness goals. You're in good company at Sakura BJJ.
TRY OUR KICKBOXING CLASSES
Sakura BJJ is proud to offer a world class kickboxing program to Rockaway, New Jersey and those who live in the area. We invite you to try a free class today. Scheduling your free class online also makes you eligible for our special web promotion!
We look forward to helping you reach your fitness and self-defense goals in our kickboxing class!