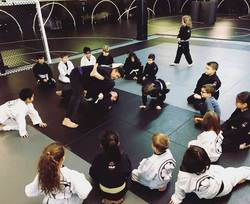 A Fun Summer with Martial Arts at Sakura BJJ
Parents often wonder how to make the most of the summer holidays for their kids. Some go on a family vacation while some send them off to various summer camps. This summer, why not have your kids learn one of the most popular and effective martial arts in the world, Brazilian Jiu-Jitsu at Sakura BJJ! Try our martial arts summer camp in Dover, NJ.
At Sakura BJJ, we have the perfect summer camp planned for your kids. When it comes to martial arts, there is so much to learn, ask our owner Chris Civello and he'll let you know how much hard work goes into the training, but that's not all.
Other than learning the art of BJJ, we have also devised other activities to keep the kids interested and motivated throughout their time with us. Our team of instructors has the experience to create a learning environment that encourages the children to better themselves in every aspect of their lives. They will learn to:
Apply discipline, courtesy and hard work in all aspects of their lives
Learn new skills like how to be good at communicating and teamwork
Improves their fitness levels
Being creative about problem-solving
The benefits that are gained due to this training cannot be matched by anything else, which is why we at Sakura BJJ have planned a summer camp program that instructs your children by going beyond the school curriculum.
At Sakura BJJ, we aim to make the summer camp awesome, fun-filled and full of skill-building for your kids so they would love to spend another summer with us. Why not give us a visit or call us for more information regarding our Kids Martial Arts Summer Camp Program!