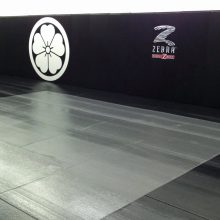 At Sakura BJJ, we have designed our BJJ school in a way that offers the unique benefits of a temple, yet functions like a modern martial arts academy, akin to the cool underground Rocky Balboa/Philadelphia style gym!
We opened our doors in 2010, in historic Dover, NJ, in the heart of Morris County. In 2020 we relocated to our current facility in the boro plaza, Rockaway NJ.  With almost 3000 square feet of mats, Sakura BJJ has been designed to be a one-of-a-kind martial arts training facility for all fitness and self defense students to thrive in.
With the focus on teaching students the most effective self defense martial arts in the world, Brazilian Jiu Jitsu (BJJ), the owner and founder of our academy, Chris Civello, wanted to provide his students with a bjj school that offered a family atmosphere. A place where everyone would come together to support and train with commitment, dedication and integrity.
In order to truly stand out, Sakura BJJ Academy offers:
Fully matted training areas
Separate changing rooms for men and women
A lobby/lounge for parents to watch their children
Professional ZEBRA grappling mats imported from Germany
Well-lit parking, accommodating over a 100 vehicles
When we look at our martial arts academy, we think of it being more of a temple than just a facility. As you know, temples are a place of harmony and peace, where everyone comes together to achieve spiritual and physical growth and oneness. This is why we designed our logo to support the key foundations on which our academy stands; the five petals of respect, discipline, gratitude, integrity and humility.
Sakura BJJ offers Brazilian Jiu-Jitsu classes for adults and kids. We urge you to visit us with your kids and have a look at our clean and friendly facility. You can view our classes and if you like what you see, you can consider enrolling and start your BJJ journey right away!