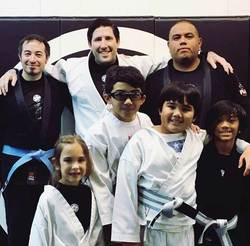 Since its inception, Sakura BJJ is committed to become a premier martial arts school that focuses on sculpting its students with care and respect. Our owner and lead instructor, Chris Civello, is a Marcelo Garcia trained Black Belt who focuses on the most important aspects of martial arts, integrity with quality training.
Martial arts have no dividing lines as its strength lies in its universality and at Sakura BJJ, we open our doors to anyone who is willing to give the time and the hard work required to become a true martial artist. Our martial arts school offers classes to adults and kids alike with care, compassion, and dedication.
Chris Civello will assure you that when you come to Sakura, you will be trained by the best BJJ practitioners in Woodstock, Georgia. Chris is responsible and treats everyone with respect. His classes create a team where no-one is better than the other. Everyone at Sakura BJJ comes to the temple to meet on the same level and push each other to greatness.
What We Do!
At Sakura BJJ, we teach our students the true essence of martial arts as we focus on training our students to become great human beings both inside and outside of the dojo. Our aim is to hone the physical and mental aspects of Brazilian Jiu-Jitsu. When training at Sakura BJJ, self-defense, self-discipline and self-confidence are the three most important qualities that you will learn to embody within yourself.
Whether you are looking to simply get in shape or just learn self-defense, with us, you get to do both; it's a package deal. Chris Civello expects every student to be committed to the program as that is the only way they will learn and benefit from the training!
If you are unsure about our academy, why not give us a visit and see for yourself. This way you can make an informed decision regarding enrolling your children and yourself too!
We are always happy to welcome you to our humble dojo!