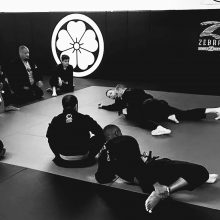 Benefit from Our Brazilian Jiu-Jitsu BJJ Training Programs!
Brazilian Jiu-Jitsu is among the most well known and practiced martial art techniques in the world today. Because of that, everyone is interested to learn the benefits of becoming a BJJ student. At Sakura BJJ in Woodstock GA, we offer BJJ training programs for adults and kids with a focus on training, integrity and hard work. When you enroll in our classes, you will benefit in the following ways:
Learn Self Defense
Brazilian Jiu-jitsu tends to focus on 'technique over strength.' It was developed by its founder to enable its practitioner to combat and defeat an opponent who is much larger and stronger. This is exactly where BJJ excels. If anyone tries to grab you, you will know how to free yourself and pin them down to the ground. BJJ is all about teaching a realistic method of protecting oneself from attackers.
Get Healthy, Fit and Strong
All martial arts require their practitioners to be physically healthy, strong and have good levels of stamina and endurance. Brazilian Jiu-Jitsu is no different. BJJ requires its practitioner to train hard and learn to excel in all aspects of physical prowess. At Sakura BJJ, our lead instructor and owner Chris Civello focuses his students to train harder as he believe it to be the best way to master our minds and bodies.
Increased Level of Confidence
The level of confidence you get from training at our BJJ program cannot be stated in words. Even though we don't recommend getting over-confident, our aim is always to teach our students to remain humble, yet headstrong and unafraid of anything and anyone. With us, you will practice regularly with other class mates as BJJ is all about learning to deal with real life fight situations, allowing you to remain calm and steady no matter what you face.
Self-Discipline
One of the core elements of each martial art is discipline and BJJ is no exception. Listening and following the instructions of your teacher is the key to becoming good at BJJ and improving your skills and techniques. When you wear the BJJ Gi and enter the dojo at Sakura BJJ, we will teach the importance of having integrity, respect and discipline.
Join Sakura BJJ and Reap the Benefits!
If these are the things you want in yourself then do not hesitate to visit us in Woodstock Georgia. You can even enroll for a FREE INTRO class so you can experience what it feels like to be in our Brazilian Jiu-Jitsu class!