Chris Civello
Chris Civello founded Sakura BJJ in 2010 to teach the martial art style called Brazilian Jiu-Jitsu. Since his childhood, Chris has had an interest in learning martial arts and started learning at the age of 11. He realized early on that grappling was a dominant tool to win a fight and started training Jiu Jitsu at the age of 22.
After years of training and hard work, he earned his black belt in May 2017 from the one and only Marcelo Garcia himself. Over the years he has experienced how the BJJ training has allowed him to become more focused, disciplined, healthier and simply better in almost every aspect of his life, both mentally and physically. However, Chris also saw how the modern world has changed people and made them lazy, afraid, depressed and unhealthy!
In order to help people overcome their fears and unhealthy lifestyles, Chris founded Sakura BJJ and has personally designed the BJJ programs for adults and kids. He instructs these classes himself with a team of instructors who too have been practicing martial arts for years and share his dedication and commitment to making Sakura BJJ the premier martial arts academy in the region!
Adam Dorfman
Adam is a purple belt who has been training for 3 years at Sakura BJJ. He fell in love with Brazilian Jiu Jistu after the first class he took. He loved the idea of the smaller competitor being able to defeat a bigger competitor. To Adam, Jiu Jistu is the closest a person can get to "physical chess" as there's always another move and you have to be able to think ahead. The reason Adam enjoys coaching so much is he likes to impart knowledge on others and see his students taking what he has taught them and seeing them create their on unique style.
North American Brazilian Jiu Jistu Federation
2016 Blue Belt 181 Gi=Gold
2016 Advanced 177 NoGi= Silver
2016 Advanced Absolute NoGi=Gold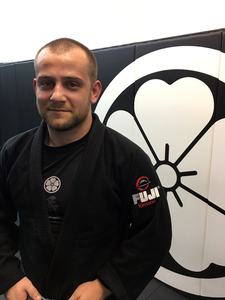 Russ Newman
Russ is Sakura's first black belt in Brazilian Jiu Jitsu. He has been competing and training since 2006. He joined Sakura in 2011 and has progressed steadily under the instruction of Chris Civello.  A full-time recreation professional for over 25 years, Russ is experienced instructing all age levels, and loves helping students understand that they are never too young, or too old, to learn new skills. When he is not on the mat, Russ and his wife Jerilyn volunteer in dog rescue and love to travel.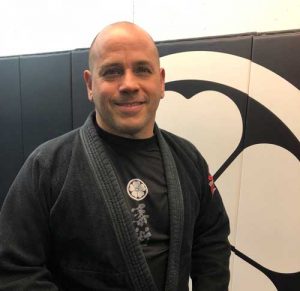 CHAMPIONSHIP TITLES
International Brazilian Jiu Jitsu Federation –  NY Open (4x- Purple belt)
International Brazilian Jiu Jitsu Federation- Masters Worlds (3rd place- Purple belt)
North American Brazilian Jiu Jitsu Federation – New Jersey Open (8x – 2x Blue belt, 6x Purple belt)
New Jersey Brazilian Jiu Jitsu Federation –  New Jersey (6x- Purple belt)
North American Grappling Association – Worlds (3x-  1x Novice, 1x Intermediate, 1x Expert/brown belt)
North American Grappling Association- North American Grappling Championship (1x- Expert/brown belt)
David O'Sullivan
David is a brown belt that has been training since August of 2012. David loves jiujitsu because it is a super fun way to get exercise and to learn how to properly defend yourself. Every day is something new and exciting and David never loses the desire to learn and improve. Jiujitsu has gotten David in better shape than he could have ever imagined. BJJ has boosted his confidence, made him more outgoing, and taught him that all goals are possible to achieve with the right people around you and the right motivation. David loves teaching jiujitsu because he can see first hand how jiujitsu improves the lives of people at all different points in their lives. David loves helping people and being a part of their success.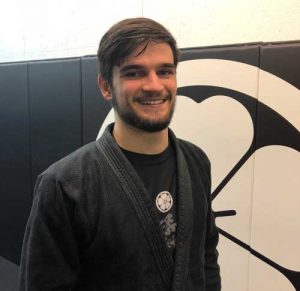 Ann Tuason
Ann is a purple belt whose been training for two years under Prof. Chris Civello. Ann started training Brazilian Jiujitsu as a way of encouraging her then 7-year old son to enroll and stay in the program. Little did she know that BJJ would be a life-changing experience for her and my family.  Jiujitsu has drastically improved her physical conditioning, given her self-defense skills and introduced her to a network of great people that she would never have otherwise met in her roles as mother, wife, nurse, business owner. As a BJJ Practitioner and Assistant Coach, she has had the privilege to teach and help kids learn BJJ principles and techniques in class. BJJ helps kids become more confident, focused and bully-proof. It teaches them discipline, honor, persistence and trains them to have the fortitude to overcome adversity. Ann can speak as a mother seeing her son reap all these benefits from practicing Brazilian Jiujitsu, and as a practitioner reaping these benefits herself. Ann says "I can say with utmost certainty that Jiujitsu has enriched my life beyond measure."
Eric Weintraub
For the past 2 years Eric Weintraub has trained and coached at Sakura Brazilian Jiu-jitsu and currently holds the rank of blue belt. The foundation for his love of BJJ is the focus and attention needed on the mat while rolling and the ability to improve every class if you are willing to work for it.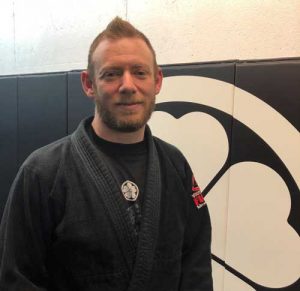 As a father of a young daughter Eric feels that BJJ is a skill that every child should have. Having the ability and confidence to defend yourself is necessary and will help at every stage of life, skills he also wants to instill in not only his daughter but every child he coaches. BJJ helps 'bully proof' kids and gives them the ability to safely and confidently defend themselves if it is ever needed. The skills and techniques learned in BJJ will help kids make better decisions, give them the confidence to defend themselves in unwanted situations and help them problem solving in many aspects of their lives.
Eric has competed and won gold at NAGA, NJBJJ and NABJJ tournaments. He enjoys competing, but the one aspect that brings him back to the mat day after day is becoming better than he was the day before.  What keeps him coming back to train and coach at Sakura is the level of detailed knowledge he receives from his higher ranked coaches and the incredible family he has gained.
Kelly Cannon
Kelly Cannon is the lead Kickboxing instructor at Sakura BJJ. Kelly began training in the martial arts very early and once he started, he knew the martial arts was going to be a major influence in every aspect of his life. At the age of 7 Kelly began training in Judo and Karate under Master Cousins. Around 10 years old Kelly added additional styles of martial arts into his regimen including "52 blocks" under Master Joe Garrett and Kenny Brown.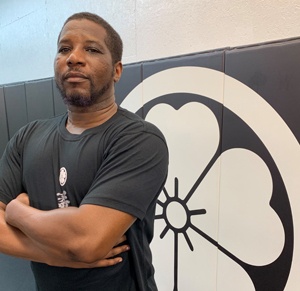 Continuing his training in Taekwondo and Kyokushin karate through his teen years under Michael Bradshaw, Kelly began to understand how the martial arts trains you physically, mentally and spiritually. Under Bradshaw, Kelly's training included endurance running barefoot in the snow as well as practicing kicks, punches and kata on the beach during cold winter months. These traditional training methods is what has developed Kelly's discipline and appreciation for the hard work it takes to set goals and surpass them!
Kelly has earned the rank of 4th degree black belt in Tae Kwon Do  From his present instructor  Kirk Backer and also holds 2nd-degree black belt in American Kickboxing. Kelly was also a member of Team USA for the 2015 World Association of Kickboxing Championship. Kelly was also inducted into the Action Magazine hall of fame in 2008.
Sakura BJJ is proud to have such an established martial artist as our lead instructor in our Kickboxing program. We're sure you're going to see great results by training with Kelly Cannon at Sakura BJJ!