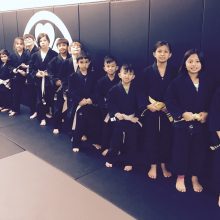 Kids BJJ Classes
As the name suggests, Brazilian Jiu-Jitsu or BJJ originated in Brazil and was developed by Master Helio Gracie. He founded this martial art to teach himself and his students the art of taking on an opponent who would be much larger in size and strength, and successfully take them down. This has led to the massive popularity of BJJ around the world especially among parents who want their kids to be able to defend themselves against bullies. This is why parents love our kids bjj classes in Woodstock.
A Fun Learning Environment
We offer a fun-oriented environment for our Kids BJJ Program, as we consider every student who enrolls with us as a part of the Sakura BJJ family. Our owner and lead instructor, Chris Civello, is a Marcelo Garcia trained Black Belt himself and is committed to providing his students with a program that is focused on training, care, and self-improvement.
Under his tutelage your children will benefit from:
Increased Fitness
Increased Confidence
Improved Self Esteem
Becoming Bully Proof
Improved Academic Accomplishments
However, at Sakura BJJ in Woodstock Georgia, we focus on not just the self-defense techniques of Brazilian Jiu-Jitsu, but also the physical and mental conditioning that goes with the hard training regimen. We believe BJJ should be an essential part of every child's sports activities as the benefits from learning this magnificent martial art goes beyond the boundaries of the dojo.
The five petals of our school crest that support the foundations of our program which are Respect, Discipline, Gratitude, Integrity and Humility. These five character traits are at the core of each lesson taught to your child in our martial arts program. It is our goal for your child to take and use these skills on and off the mats.
Visit Our Dojo!
We highly recommend that you visit us during our BJJ class sessions for kids and see firsthand how our instructors conduct these sessions. This will allow you and your kids to know what Brazilian Jiu-Jitsu is all about and if you have any questions, we will be more than happy to answer them.
So come on over! We are located in Woodstock Georgia.