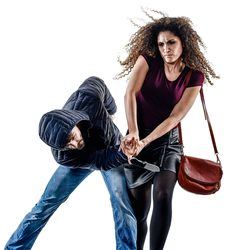 Women's Self-Defense Classes in Woodstock, GA
It's unfortunate but true that nowadays some women can feel unsafe when in public. No matter where you live there is always a great benefit to learning how to defend yourself if the need should ever arise. While we hope you never have to use it, we're completely confident that with our women's self-defense training, you will feel much more confident in your ability to defend yourself from anyone hoping to do harm in Woodstock GA and it's surrounding areas.
In our women's self defense classes, you'll learn many skills to keep you safe. Our classes are designed to be easy to learn so that you'll feel comfortable doing so, and while you "may not know what you don't know," after a few classes, you'll have a better understanding of basic self-defense in many situations. You will learn striking techniques, how to break falls, escape holds and how to defend yourself against kicks and other scary situations. When you know what potentially could happen, you'll be better prepared for it.
Sakura BJJ Makes Learning Self-Defense Fun
Sakura BJJ offers women a safe and friendly environment to get fit, make friends and have fun while learning self-defense. We primarily teach Brazilian Jiu-Jitsu (BJJ) which is always evolving and we regularly add new techniques and strategies to our curriculum. It is truly an art that keeps on giving. With each new technique learned, you develop another layer of self-defense. And Sakura BJJ offers classes for everyone.
You probably know that BJJ is a martial art. What you may not know is that it's a martial art that offers fitness as well. If you're trying to lose some weight, BJJ can be an ideal sport since you get all the benefits of working out, including burning fat, building muscle, and increasing stamina. Furthermore, it's an effective form of self defense, which will increase your self-confidence. And unlike most workouts, BJJ is easy to learn, so you're never going to get left behind either. In fact, you can get started today, right where you live, by enrolling in bjj classes in Woodstock Georgia area.
Women Can Learn Self-Defense at Sakura BJJ in Woodstock, Georgia
Sakura BJJ offers women's self defense classes, adult and kid's BJJ classes as well as law enforcement self defense classes too. Our owner and lead instructor, Chris Civello, is a Marcelo Garcia Trained Black Belt who has trained in Gracie Jiu Jitsu (GJJ) for over 20 years. Chris loves to see the confidence his trainings can deliver to anyone willing to try a class.
We know what it's like to be nervous trying something new. We do it every day at Sakura BJJ! That's why we're always so excited to meet new people and help them discover what it's like to train in Brazilian Jiu-Jitsu. If you have second thoughts about trying it, you're not alone. But there are so many reasons to improve your self-defense by learning the martial arts. Come down to a women's self-defense class and we're certain you'll love the confidence you feel after just one class!