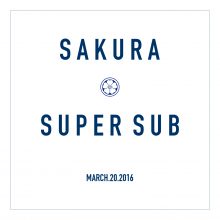 March 20th, 2016 @ 12:00pm
Sakura Super Sub Tournament is a new, absolute format, submission only tournament
with only one champion per belt rank.
Registration is $35
Please forward your receipt of payment with your weight and rank to
sakurabjj@gmail.com
Welcome to The Sakura Super Sub Absolute tournament where "There can only be one!"
This tournament will be held in a Submission Only / Absolute Format.
Belt Divisions
White belt
Blue belt
Purple belt
Brown belt
Black belt
All belts will compete in only 3 weight classes with no age restriction
Light weight:
155lbs and under
Middle weight:
156lbs ~ 186lbs
Heavy weight:
187lbs and over
Match Duration per belt rank (No over time)
White belt         ~ 5 minutes
Blue belt           ~ 6 minutes
Purple belt        ~ 7 minutes
Brown belt        ~ 8 minutes
Black belt         ~ 10 minutes
Finals for all divisions ~ 15 minutes
All competitors will compete until producing one winner per weight class/belt rank. Finalists will then face each other in a round robin format ending with one true division winner. There will be no second or third place awards. No submission during a match will result in a loss for both competitors. Submitting your opponent will advance the competitor as well as gain 1 point towards the team trophy. A competitor that submits their opponent in half of the time allotted per belt rank will gain 2 points towards their team being rewarded for finishing in a timely manner.
example.
Brown belts fight for 8 minutes.
No submission is a double loss.
A Submission results in 1 point towards the athletes team.
A submission in under 4 minutes of this match results in 2 points towards the athletes team.
Only one award will be given for the team that accumulates the most points.
There will be no second or third place awards.
GENERAL RULES
POINTS
NO points OR advantage points any positions or moves. NO decisions.You will only move on or ultimately win via submitting your opponent.
UNIFORM / GI
Patches on the gi are OK. It is OK to wear a rash-guard under your go but NO Tee Shirts
ROLLING OFF OF THE MAT
*If you purposely flee the ring to avoid a position or submission you will be disqualified.
**If you roll off the mat in defense to a submission you will be reset in the same position that you were stopped in.
ALL GENERAL ILLEGAL SUBMISSIONS WILL APPLY
These submission attempts will result in IMMEDIATE disqualification. Please note: Although these techniques are not allowed for the safety of our competitors it is still highly recommended that competitors learn how to defend them at their school.
•No Slamming from the Guard, Armlock, or Triangle Choke. When a competitor is lifted up from the ground and their head is raised above the standing competitor's waist the referee will advise the holding competitor to uncross their feet. This includes a closed triangle.
No Cervical Lock of any kind.
No Chin Whips.
No Knuckles to the Front of the Throat (Knuckles to the side of the neck are OK).
No Neck Cranks or Frontal Neck Cranks of any kind.
No Neck Locks of any kind.
No Scissors Takedown of any kind.
No Butt Scooting. Competitors must either take the opponent down or pull/jump guard. No spiking of the head on a takedown. ex. pile driver, power bomb ect.
***Grabbing with 4 fingers inside the sleeve of the jacket top and inside the pants are OK.
***Pulling Guard/Jumping guard is OK. You must make contact with your opponent before sitting guard. If you sit without contact you will be reset to standing position.
WHITE BELT SUBMISSIONS
– ALL GENERAL ILLEGAL SUBMISSIONS WILL APPLY EXCEPT:
Please note: decorated wrestlers should not enter the white belt nogi division. They should enter the blue belt nogi division. If a wrestler is doing Gi, please use your best discretion on where to place them. It's generally understood that the gi game is what is new to wrestlers. Therefore, if you feel the white belt gi division is best for you please feel free to enter as a white belt in the gi.
Additionally: Judo players, Sambo players and any other form of hybrid or eclectic grapplers should enter in at the blue belt level. This ensure that the white belt divisions is fair and competitive to our beginner grappling friends.
No twisting leg locks of any kind.
No Twisting the Knee in an Unnatural Direction.
No Calf Lock of any kind.
No Bicep Slicer, No Calf Slicer and No Compression Locks of any kind.
No Electric Chair Submissions.
No Twister Submissions.
No neck cranks or can openers
Straight ankle lock is OK
Wrist locks of any kind are OK
BLUE BELT SUBMISSIONS
– ALL GENERAL ILLEGAL SUBMISSIONS WILL APPLY EXCEPT:
Wrist locks of any kind are OK.
Any straight knee lock is OK.
Any straight ankle lock is OK
Any straight leg lock or knee bar is OK.
NO Twisting foot locks.
No Slicers or Cutters.
NO Electric chair submissions.
NO Twister submissions.
PURPLE BELT SUBMISSIONS
– ALL GENERAL ILLEGAL SUBMISSIONS WILL APPLY EXCEPT:
Wrist locks of any kind are OK.
Any straight foot lock is OK.
Any straight leg lock or knee bar is OK.
Twisting foot locks (toe hold only) are OK.
No Heel Hooks
Bicep slicers are OK.
Calf slicers and compression locks are OK.
Electric chair submissions are OK.
Twister submissions are OK.
BROWN AND BLACK BELT SUBMISSIONS
– ALL GENERAL ILLEGAL SUBMISSIONS WILL APPLY EXCEPT:
Wrist locks of any kind are OK.
Any straight foot lock is OK.
Any straight ankle lock is OK
Any straight leg lock or knee bar is OK.
Twisting foot locks, ankle locks, leg locks and knee bars are OK.
Bicep slicers are OK.
Calf slicers and compression locks are OK.
Electric chair submissions are OK.
Twister submissions are OK